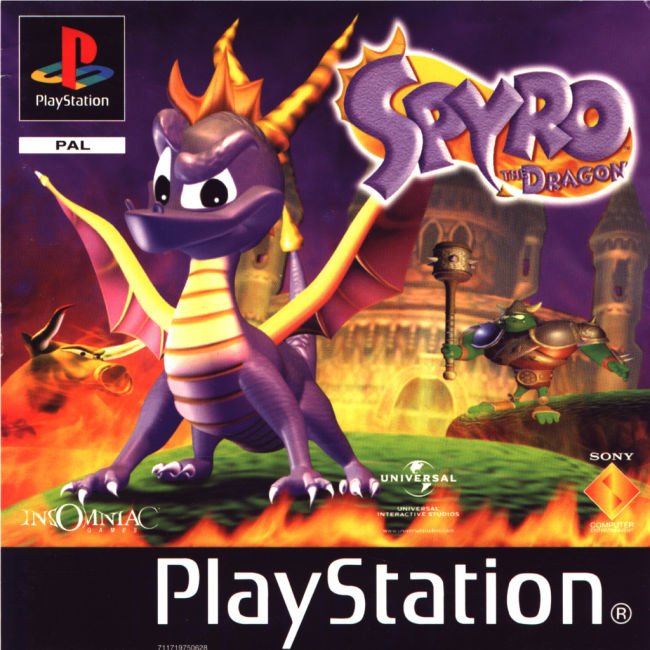 The evil wizard Gnasty Gnorc wants to conquer the world. For this, he put out of harm's way all the dragons by statufiant in crystal. You play as Spyro, a very young dragon who escaped the curse of Gnorc. You are therefore in charge of freeing all the dragons who have been victims of the tyrant and to find all the jewels that this one has stolen from them.
Spyro will evolve in a colorful universe, all in 3D, and with fine and detailed graphics, in a style of the most successful cartoon. At your disposal, like any good self-respecting dragon, you will be able to: walk, run, spit fire, fly and even rush into your opponents (since you also have horns!). So many moves, but do not worry, the handling is impeccable and we learn very quickly to achieve all the shots of Spyro.
You will then go through the different worlds of Spyro, collecting the jewels that are scattered or you win by setting their account to the many monsters that haunt the levels. Of course, you will not forget your initial goal, which is to free all dragons from their curse. Moreover, each released dragon will thank you in person (voices are entirely in French and very successful, which is very appreciable!).
The different monsters you'll meet are all beautifully graphical and mostly hilarious. Thus, you will see large green gnomes that startle and run away on seeing you, others who hide and tremble with fear, bulls or goats that will charge you, shepherds who use the stick, watchdogs who you will jump on it unless you grill them before they have time ... You will even get shot from the barrel by gnomes- soldiers !!
In short, dozens of different monsters, just as funny as each other: a real pleasure to browse the game, just to discover the new characters!
Type of Game: Platforms
Release Date: French: 1998
Platform: PSX
Language: PAL-MULTI (fr / ang / all / ita / esp)
Hosting files: Mega
Cut out with: Winrar
Number of files: 1
Size of the files: 421 Mo
Format: Iso
PASS :
FOX24WXR65