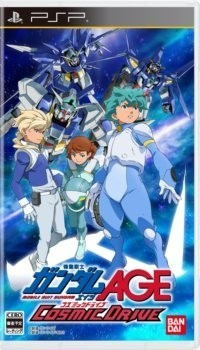 Kidou Senshi Gundam AGE: Cosmic Drive is a RPG game published by Bandai Namco Games released on August 30, 2012 for the Sony PlayStation Portable.
Patch info:
Item names, Parts names, Materials, Dropped Tech, Weapon Skills, Unit names, A few pilot names, 90% of the menus, quite a few melee weapons, and quite a few errors.
The story is not translated and it's not planned to be translated either
. Patch is finished.
Gundam AGE: Cosmic Drive (English Patched) ISO PSP
Release Date:    August 30, 2012
Genre:    RPG
Publisher:    Bandai Namco Games
Type:    PSP ISO
Unpacked Size:    1.57 GB
Region:    Japan (NTSC-J)
Languages:    English Patched, Japanese
Disc ID:    NPJH-50567
DOWNLOAD