Chou Soujuu Mecha MG (English Patched) ROM DS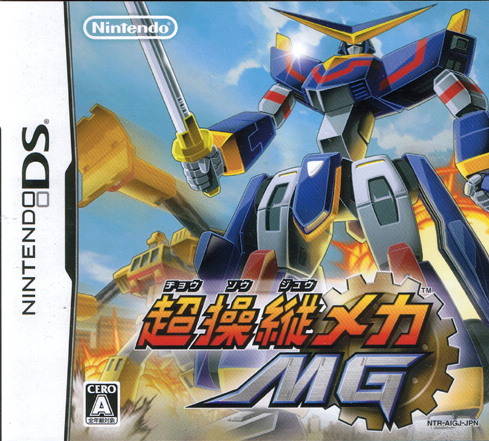 Chou Soujuu Mecha MG is a Action/Simulation/Vehicular Combat video game published by Nintendo, Sandlot released on September 2, 2006 for the Nintendo DS.

This is a partial translation patch for Chou Soujuu Mecha MG. It translates all of the "essential" gameplay text, like menus, mission objectives, and mecha instructions, with the goal of allowing you to play through to the ending without knowing any Japanese.
This patch translates:

All menus
Mecha names and usage instructions
Item names and effect descriptions
Mission names
Mission objectives (pause during a mission)
Character names in the Character Album
Dialogue branches (all five of them)
A few scraps of helpful tutorial text in Missions 0 and 2
Text for Mission 49, which explains how to complete Mission 50
The title screen
The stylized kanji insignias for each Workshop, which are replaced with more recognizable icons. (I won't try to sell you on my artistic skills, but I think these will suffice — if anyone out there is willing to draw something better, I'd welcome the help!)

It does not translate:

Scenario text other than the above mentioned
Mecha descriptions
Item flavor text
Character profiles
The credits (though I did shove my name in at the end)
Game Name: Chou Soujuu Mecha MG
Original Title: 超操縦メカMG
Region: Japan
Console: Nintendo DS
Release Date: 2006-09-02
Genre: Action, Simulation, Vehicular Combat
Publisher: Nintendo, Sandlot
Languages: English Patched, Japanese
SIZE : 31 MB
DOWNLOAD
Chou Soujuu Mecha MG - EN Essentials (v1.1)