Thousand Arms (Undub) (En) EBOOT PSP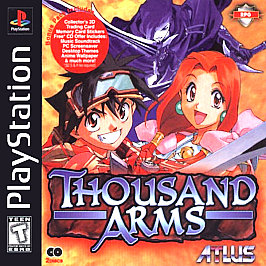 Thousand Arms is a RPG game published by Atlus released on December 17, 1998 for the Sony PlayStation Portable.
This is a PSP Eboot, originally from the PSX/PS1 game, Thousand Arms.
You need to put this in the "Game" folder of your PSP directory, on your Memory stick.
This is the Undub version of the game, as converted from the PSX Undubbed ISO.
Release Date:    December 17, 1998
Genre:    RPG
Publisher:    Atlus
Source:    PSX2PSP
Unpacked Size:    1.05 GB
Region:    USA (NTSC-U)
Languages:    English, Undub
Disc ID:    SLUS-00845
Instructions:
To play it on a real PSP copy the folder containing the eboot to \PSP\GAME\, note that each eboot needs to be "in a folder", else they'll show up as corrupted data.

Example: X:\PSP\GAME\SLUS-00845\EBOOT.PBP

Alternatively, "PSX2PSP" eboots can be emulated on PC with ePSXe emulator.
DOWNLOAD
PCLOUD